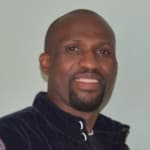 Pacifique ZIKOMANGANE holds a Master's degree in International Relations (University of Strasbourg) and another in Peace and Conflict Management (University for Peace), with over 9 years' experience in peace-building and conflict resolution. He has worked in the Democratic Republic of Congo and other countries in the Great Lakes region (Burundi and Rwanda) as well as in West Africa (Senegal, Mali, Burkina Faso and Niger). His areas of expertise include conflict sensitivity, conflict analysis, media and peacebuilding, and the fight against violence and hate speech.
As an expert in conflict sensitivity, Pacifique trains and supports national and international NGOs in the DRC on how to integrate conflict sensitivity into their projects.
He has supported the USAID-funded "Albarka" project in Mali in implementing the project's conflict sensitivity strategy and analysing conflicts in the areas of intervention.
Pacifique coordinated a research project on peace-building in the DRC for Harvard Humanitarian Initiave as Country Project Cordinator before moving to West Africa with NRC as Regional Conflict and Access Analyst in the Sahel, where he conducted training on humanitarian access and conflict analysis in Mali, Burkina-Faso and Niger.
With Search for Common Ground in the DRC, he set up a conflict monitoring system to ensure that projects were conflict-sensitive
He was responsible for implementing and managing the Early Warning, Early Response project in the DRC, setting up and training a national network of hate speech monitors. He also trained community leaders and local authorities in the DRC on how to identify and break the cycle of violence.
He also participated in the analysis of conflicts in eastern DRC and the cross-border region to guide USAID's five-year strategic programming in DRC.